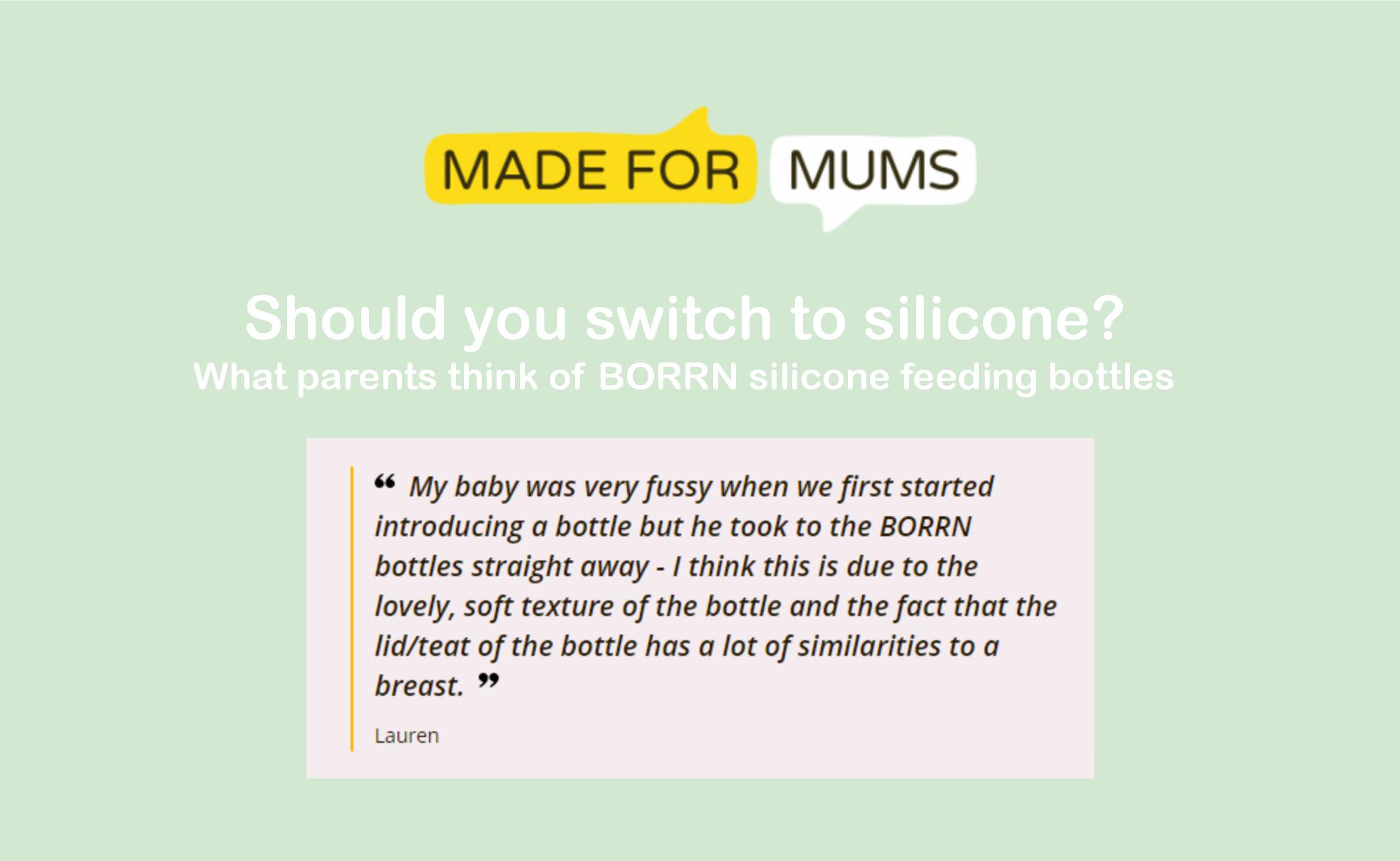 Recently the UK's No.1 parenting media MadeForMums has done a survey with the participation of dozens of mums living in the UK. They have been asked if they'd think of switching from usual plastic or glass baby feeding bottles to one made from silicone? Those mums (namely testers) revealed what they thought of BORRN silicone feeding bottles.
Baby feeding bottles have traditionally been made from glass and plastic but silicone is the latest material winning over parents and babies. Silicone has previously been used for the teats of many baby bottles, and it's easy to understand why it's now being adopted for more elements too. The silicone used on the inner surface of BORRN's bottles is naturally BPA-free, durable, resilient to stains and can be cleaned easily. It's also resistant to high temperatures and is microwave and dishwasher safe. Perhaps best of all, silicone is soft – lending a uniquely squishy texture to baby feeding bottles.
The rubber-like material has been used safely for food storage and preparation for years and its qualities lend themselves well to baby feeding bottles, as our parent product reviewers discovered when they put BORRN silicone bottles to the test. Keep reading to find out why these bottles are Parent Approved.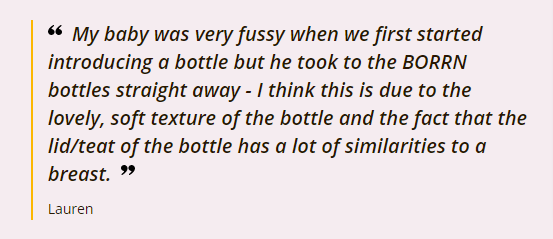 What do BORRN silicone bottles feel like?
Our testers and their babies were unanimous: they all loved the "smooth" surface of the BORRN silicone bottles. "They are super soft to touch," enthused JazzN92, who loved the "squishy" feel of the bottles – as did her baby son: "He absolutely loves to squeeze them!" Similarly, Ellababy's daughter "really enjoyed feeding and playing with the bottles."
In terms of weight, tester Nimah was "pleasantly surprised at how light" the BORRN bottles felt compared to other bottles – for her and her baby. "The BORRN bottle is so light that my 14-month-old could hold it himself, which really allowed him to take ownership of his drinking and meant I didn't have to hold the bottle for him." Wendy C had a similar experience, commenting that her baby "could hold the bottle easily, which she couldn't when we used other bottles made from different materials."
What are the health benefits of using a BORRN silicone baby bottle?
Aside from the pleasing texture and lighter weight of the BORRN bottles, other wins include the fact the silicone is BPA-free. Our testers found this particularly reassuring, with tester Ellababy describing it as "a huge relief knowing the materials are safe" for her baby. Silicone's high-heat resistance is another bonus, as the bottles can safely go in a microwave and steam steriliser – "there's no need to worry about any toxic substances released during sterilising."
The "innovative design" of the BORRN bottles means that they are sealed with silicone, with a small amount of plastic 'hidden' or covered by silicone. Not only does this ensure the bottle contents (expressed breastmilk or formula) won't come into contact with plastic, it also prevents leaks. In the words of tester Jenogs2, "this is a leak-proof unit. My baby can squish and squeeze it and still no leakage."
How do you assemble and use a BORRN bottle?
There are just two – yes, two – pieces of the BORRN bottle, making it "incredibly easy to assemble" according to tester Nimah, who loved that there were "no fiddly parts, unlike other anti-colic bottles" she's used previously. "The top of the bottle is a teat and collar in one which means you don't have to spend time fitting the teat into the collar," explained Jenogs2. Instead, you simply screw the top to the bottom.
When it comes to cleaning and using the BORRN bottle, things are just as simple: The "cup shape" of the bottle and wide opening make the bottles "really easy to clean" and "very easy to put scoops of formula in without any mess." Plus, the smooth surface and beaker-like shape make the bottle "easy to hold and grip."
Do babies take to the BORRN teat and nipple?
Like the rest of the product, the breast-shaped teat and nipple of the BORRN bottle are made from skin-like silicone to encourage latch and feeding. The combination of shape and softness "makes the bottle-feed experience closer to breastfeeding," according to one tester, whose baby took a few attempts before getting used to the teat and finishing a bottle of milk.
LaurenB92 found her baby "took to the BORRN bottles straight away due to the lovely, soft texture of the teat and the similarities to a breast." Ellababy's daughter "didn't latch because she's used to different-shaped teats and nipples," but Ellababy is hopeful that her baby will take the BORRN bottles "when she is older, for water or milk." Happily, the variable-flow teat (available to buy separately) is suitable for babies aged 9M+.
Can silicone feeding bottles outperform those made of plastic and glass?
Our testers agreed that in many ways the BORRN silicone bottles are superior to the non-silicone bottles they and their babies have tried before, giving particularly positive feedback on their appearance, feel and performance. Mum-of-one Jadegabriellexo praised the "user-friendly" bottles for having a "unique design and texture," being "reassuringly free from BPA" and "very easy for little ones to hold."
And tester Wendy C is convinced the BORRN silicone bottle trumps both short lifetime polypropylene bottles and heavy and breakable glass bottles. "In contrast, the BORRN bottles have a much longer lifespan, are extra light in weight and are shatterproof. Plus, the BORRN bottles are completely leak-proof."

Try for yourself at borrn.com